If you've ever wanted to add some more cannabis edible drink recipes to your collection, weed hot chocolate is a great one to add! This amazing edible recipe takes 15 minutes from start to finish & serves 3.
If you're just skimming this post, make sure to check out the potency calculator near the bottom. It will help you determine the potency of your infused hot chocolate.
There's nothing like a warm cup of hot cocoa on a chilly, snowy day. It's the perfect beverage for sitting around, relaxing with family or friends, and having a chat at someone. So, what's a better way to enjoy those laid-back moments than with a THC-infused version of warm, delicious hot chocolate?
There are tons of cannabis-infused beverages on the market, but if you want to try your hand making your own hot chocolate instead, we have you covered. Making this at home allows you to add a little more flavour of your own, and while you're at it, you can try making your homemade cannabis-infused marshmallows to add to your hot cocoa when it's finished. You'll find a quick and easy recipe for those here, as well.
Edibles Are Growing in Popularity
Edibles, concentrates, and wax are just a few of the items that were illegal for sale in Canada up until October 2019. As that changed, the market opened up, unveiling an endless array of options when it comes to foods and beverages that can be easily infused with cannabis.
Chocolates and candies are some of the most popular cannabis-infused food items available, and they can be enjoyed by themselves or by adding them to your other favourite recipes.
When it comes to cooking with cannabis, you can choose products with either THC or CBD compounds, and you likely won't have a hard time finding what you want. With that said, there's nothing like a homemade cup of hot chocolate, and with this recipe, the possibilities are endless.
How to Make Infused Hot Chocolate from Scratch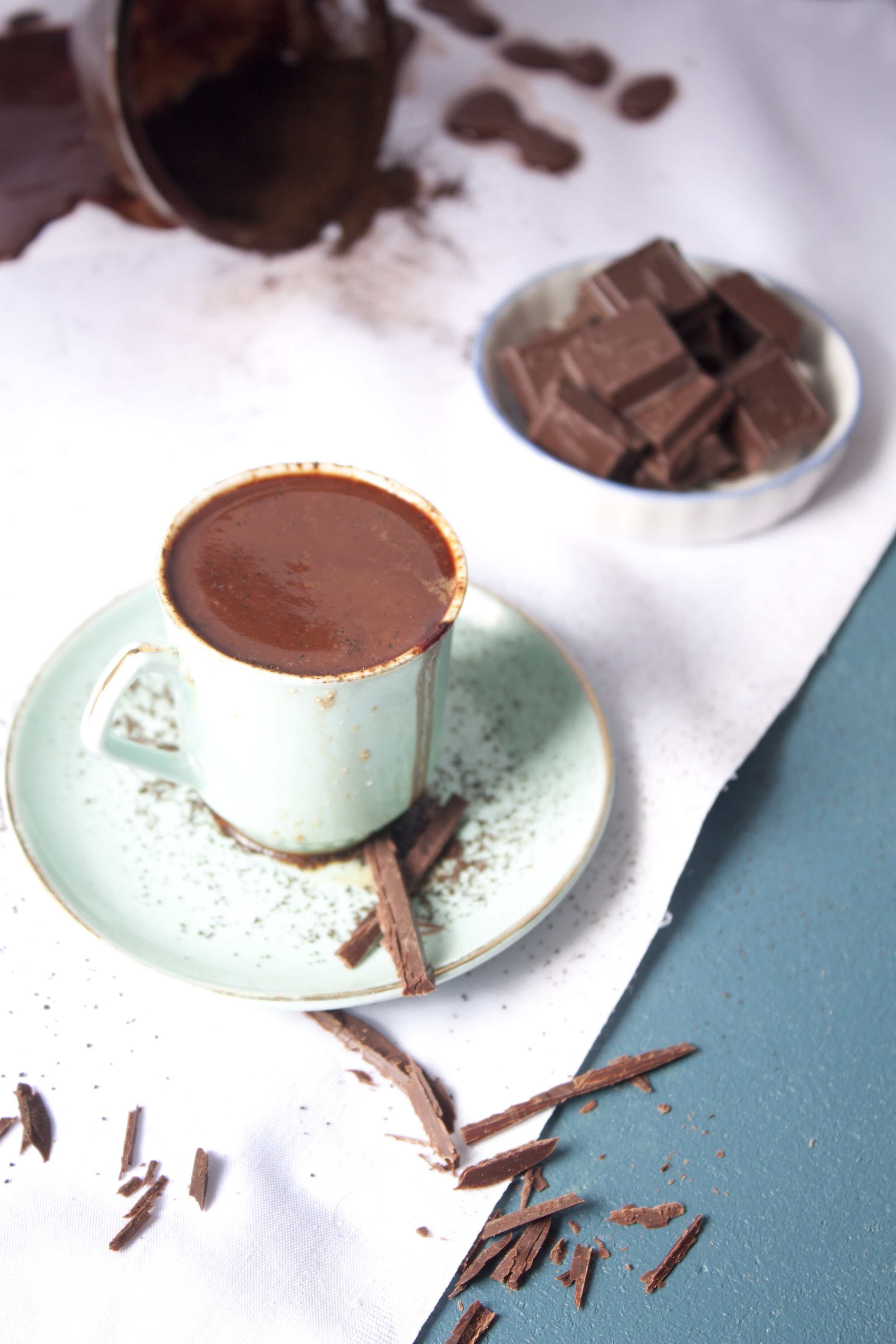 We prefer to use chopped chocolate bars for our recipes. You can also substitute the chocolate bar for cocoa powder. You loose out a bit on the smoothness from the cocoa butter.
Side note – since we are quarantined inside, we couldn't find a regular bittersweet chocolate. So we used regular Hershey Kisses! And we loved it!
Almond milk or cashew milk is our go-to non-dairy base when we enjoy our hot chocolate. Best to make this from scratch, it's pretty damn easy. For another post perhaps.
Use a double boiler to heat up your choice of milk. Toss in the chopped chocolate (or cocoa powder) and whisk until completely blended.
To quickly melt the chocolate, to the microwave we go! Feel free to pop it in a microwave safe bowl with 30 second intervals until creamy.
How do We Add the Cannabis?
Some recipes call for the addition of sugar to sweeten your drink, but we prefer to add in our infused cannabis maple syrup. You can follow our infused cannabis honey recipe and replace the honey with maple syrup. Works well for us.
Secondly, you can also use any chocolate infused with cannabis – homemade or distributor purchased. You can chop up your desired amount and add it in with the regular chocolate.
Everyone has a different tolerance and dosage level. We always suggest to go slow and enjoy.
One more recipe
Before getting started, you'll want to gather these items.
480 grams (2 cups) whole milk
50 grams cannabis chocolate
2.5 grams (1 tsp) cocoa powder
1 gram (¼ tsp) vanilla extract or pure vanilla
Marshmallows (recipe below)
One great thing about this recipe is the fact that you can put your own twist on the flavour based on which type of cannabis chocolate you choose. If you like something a little different, you can swap out the milk chocolate bar for dark chocolate or find something that has a little caramel.
Start by warming your pot on the stove to low heat. Add your milk to the pot and let simmer for about two minutes.
Once the milk is warm, add your cocoa powder, vanilla, and sugar and stir gently. Raise the heat slightly until the milk mixture reaches a low boil. Once it begins to boil, remove the pan from the heat and set it aside.
While that's resting, take a moment to chop up the chocolate. You may find using a premade chocolate bar is more convenient and significantly less time consuming than using cannabis flower and infusing it yourself. The chocolate bars also cut down on the marijuana-like aftertaste you may experience if you make it yourself, so you may prefer this method for that reason, as well.
Grab the chocolate bar and break it into small pieces. You'll want to chop it up as finely as possible, so it melts more evenly once it's added to the milk mixture.
Once it's grated up nicely, add it to the pot of warmed milk mixture. Using a whisk, start blending the chocolate into the milk until all of your chocolate has dissolved. You don't want to leave any big chunks or pieces behind.
Another twist you can try on this recipe is adding whipped cream to the final mixture. To do that, just add two large spoonfuls of whipped cream to the finished hot chocolate mix in the pot, and mix. That will make your hot cocoa beverage a little thicker and a little sweeter.
If it's not sweet enough, you can always add a little more sugar, or try cutting down on the amount of cocoa you use. The great thing about this recipe is because it's so convenient, you can try it over and over again with different ingredients.
If you want to skip the whipped cream, but you want to add a little something extra, you can try adding some homemade marshmallows.
How to Make Cannamilk
In order to prepare a large enough batch of cannamilk, you'll need to retrieve your ingredients:
1 liter of whole milk, full-fat milk, or coconut milk mixed with coconut cream (50/50 ratio)
25 grams of your best marijuana
Medium to large saucepan
Cheesecloth
Metal (steel) mixing bowl
Whisk or stirring spoon
Once you've collected all of your ingredients, it's time to get cooking!
Place a few inches of water into your medium or large saucepan on medium heat, bringing the H2O to a gentle boil.
Pour your milk or coconut alternative into the steel mixing bowl and then add in the 25 grams of cannabis bud. Using your whisk, stir the ingredients together for about 2 minutes.
Reduce the pot with water to low heat, allowing it to simmer. Place the steel bowl with its contents into the saucepan so that the bottom of the bowl touches the water. This produces a double boiling effect, which keeps your milk at a stabilized temperature and prevents it from curdling.
Be sure to keep your heat at a low temperature. This slow cooks the milk and cannabis, which prevents the dairy and the THC from being destroyed. Stir every 10-15 minutes with your whisk or mixing spoon to help keep the mixture emulsified. Keep the water underneath the bowl at a simmer at all times and never a full boil.
Keep the cannamilk mixture cooking at low heat anywhere from 30 minutes to 3 hours, depending upon the potency and strength you desire. The closer to 3 hours you simmer the mixture, the more potent your cannamilk will become. Do not cook the mixture for more than 3 hours, however. Keep your stove top at low heat for the entire duration.
Once you feel it's ready, turn off the heat and strain the mixture through a cheesecloth in order to remove excess leaves and buds. Store your fresh cannamilk in the fridge always for future use.