South Africa's First Hemp Infused Gin
South Africa's Cape Winelands is a region that is fast rivalling world producers in the production of premium liquor and spirits. With amazing weather and skilled craftspeople, independent distilleries are experimenting with novel ingredients to create batch distilled gin.
In the serene Breede Valley is a family-owned distillery experimenting with "the Alchemy of gin". Monks distillery creates double-distilled small-batch gins, experimenting with local botanicals to create novel flavours and bottles.
Head distiller Nic Davis blends botanicals sourced from the region to create unique, almost unconventional gins. Perhaps the most groundbreaking of their inventions is Monks Mary Jane, the first gin in South Africa to be infused with hemp.
Alternative health experts have often touted hemp as a miracle plant capable of treating a number of physical and mental illnesses. While Monks does not claim to have any medical properties in any of its gins, the founders themselves have had first-hand experience with the miraculous properties of hemp. Di Davis, co-founder of Monks says, "we are very strong supporters of the movement to legalise the commercial cannabis and hemp industries in Africa. Not only would it be an enormous boost to our collective economies but hemp seeds are highly nutritious and a great food source. Both Nic and our son and brand ambassador, Connor, have an auto-immune condition similar to Multiple Sclerosis which they have successfully treated with Cannabis Oil for some time. For this reason, Mary Jane, the colloquial name for Marijuana, is very close to our hearts." Following the decriminalisation of cannabis in South Africa in 2018, they launched the hemp-infused gin with cannabis imported from Europe, but they plan to go completely locally once it's legal. "When the constitutional court ruled that the prohibition of the personal use and cultivation of cannabis, by adults, in private spaces is unconstitutional, we celebrated by launching Monks Mary Jane which is infused with hemp grown in Croatia but processed in Switzerland. As and when legislation allows, we aim to grow and process our hemp on the farm," adds Di Davis.
You can find out How To Make Cannabis Infused Vodka here!
It is important to note that the gin does not contain any of the active ingredients in marijuana that lead to being stoned. Consumers can, therefore, enjoy their pour without worrying about getting high. The Mary Jane is already making waves, having been awarded 'Best South African Contemporary Gin in the World Gin Awards 2019'
The Mary Jane isn't the only revolutionary aspect of the distillery. The imagery and distillation process of Monks makes it stand out in the world of South African gin. "Our distillery in the Breede Valley is, as far as we know, the only totally off-grid distillery in Africa and possibly the world."
Inspired by the revolution of gin, they set out to create a brand that paid homage to the origins of the spirit "We wanted to create something unique in many ways to allow existing and prospective gin fans an opportunity to experience the romance, the alchemy and the mystery of the process. 11th Century Benedictine Monks were the first alchemists to distil using copper alembic pot stills, hence the name Monks and the use of copper in the branding. The symbol that appears in the centre of the 'O" is the ancient symbol for copper which helps to weave history into our brand."
The majority of botanicals for their gins are sourced locally "We are lucky enough to live in one of the most beautiful, floral rich regions of the world. The diversity of the Western Cape's fynbos is one of the main things that makes it so special. Table Mountain alone has more species of plants than the whole of the British Isles. Two thirds of these species are endemic to the region, they occur nowhere else on earth. It made no sense to look any further than what we could forage in our backyard mountains for the perfect ingredients for a truly Cape gin," says Di Davis.
Through their innovative processes and techniques, the distillery is creating premium world-class gin that deviates from expected norms. Di Davis says, "We like to see ourselves as disruptors in a very conservative, largely corporate sector while showcasing the quality of our premium spirits. Our love and passion for what we do is shared by our wonderful staff who have been upskilled in the process."
HOW TO MAKE CANNABIS INFUSED GIN: A QUICK AND EASY BLEND
Many people enjoy the effects of alcohol and cannabis. It is very important that this combination is carefully dosed as the effects may take a turn very quickly. The taste and effects of weed and alcohol can be an amazing experience. This cannabis infused gin is easy to make and will complement your bar nicely.
In this recipe, we show you how to make a perfect cannabis infused gin. Try this gin in cocktails or drink up straight. It is important to infuse a small amount of THC into the Gin to elicit a mellow high.
Of course, it is important to consume this recipe safely.
How long does it take to infuse your Gin with marijuana?
It's best to let your cannabis-infused alcohol sit for at least two weeks. This is to allow the infusion to blend correctly. If you are looking to create this cannabis spirit infusion sooner, we recommend allowing for at least 48 hours.
What cocktails will work well with this cannabis gin infusion?
Weed infused gin will pair well with many gin based cocktails. It is worthy to note that cannabis will add an earthy flavor to your gin. The terpenes in cannabis offer an herbaceous flavor and this can balance nicely in sweet or sour cannabis cocktails. If you are fond of an herb-like flavor, this weed infusion can be consumed straight up. It is all about personal taste.
Gin has been around for thousands of years. Such cocktails as the bramble (gin with blackberry or raspberry liquor and lemon) would mask the flavor of cannabis beautifully.
If you prefer a lightly flavoured cocktail, try using your new weed infused gin in a gin spritz. Of course, this cannabis infused base would also make an excellent spirit for a sophisticated gin martini.
A weed infused gin mule might make a fantastic summer beverage. Mixing up your cannabis infused gin, ginger beer, lime, and simple syrup makes for a delicious summer gin mule.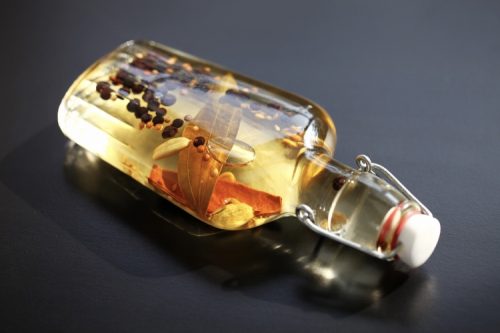 Create Your Own Two Ingredient Cannabis Infused Gin!
Ingredients
1/4 Ounce Cannabis
1 Bottle Of your favorite Gin
Instructions
Decarboxylate your cannabis buds by spreading your cannabis evenly on an oven tray and coat with aluminum foil.
Place in the oven on 240F/115C for 25 till 45 minutes, and then let it cool down.
Wrap the decarbed cannabis into a cheesecloth or unused pantyhose and create a small package from it.
Place the package in a bottle of Gin. And let it infuse for minimum 48 hours at room temperature. Shaking every 12 hours.
After 48 hours or more, remove the cannabis from the battle and enjoy your cannabis infused gin.