Ahh, Banana Bread, the saviour of the over-ripe banana.  We seriously question if subconsciously, we let our bananas turn brown just so that we can make this wonderful comfort food. If someone ever questions why you let your bananas turn brown, we say just whip up this Cannabis Banana Bread and brag about it. They'll be wishing they could do the same!
You'd be hard pressed to find a more delicious way to use up over-ripe bananas. I love the sweet-tart cranberries nestled amid the moist sweet banana flavored cake of this recipe, but you could also substitute chocolate chips (pictured below) or chopped nuts. Or mix and match.  This marijuana banana bread is also delicious without any mix-ins at all.
Here's a little trick to save money on your bananas
Here's a fun fact. Bananas grow in more than 130 countries world wide. That's a whole lot of bananas. Not all of the bananas from these world wide shipments actually make it to the shelf. It is possible to ask your local grocer for their imperfect bananas to save money on this incredible fruit. This is because grocers want to display the most beautiful fruit in hopes that it will sell. Well, we see beauty in a brown banana because we know how damn good this banana bread is! This lost bananas are selling at a lesser price because of their appearance. Capitalize on that!
Tip: Bananas ripen very quickly if they are not in the fridge. Ripe Bananas can be frozen in their skins, then peeled and thawed for instant use in baking.
This is why you may want to try our recipe for Cannabis Banana Bread
This Cannabis Banana Bread recipe is easy-to-follow. With its few ingredients, it boasts incredible taste considering its lack of complexity. In the "quick bread" category, Banana Bread does not disappoint. You can prep it in no time, bake for an hour and voilà…you have a masterpiece. Enhanced with Cannabis Butter, this recipe takes Banana Bread to a whole new level.
Cannabis Banana Bread Recipe
Start to finish: 1 hour 20 minutes (active: 20 minutes)
Yields: 12 servings
Approximate dosage: 10 milligrams per serving*
Ingredients
1 ¼ cups sugar
½ cup cannabutter, melted
2 eggs
1 ½ cups (3 to 4 medium) overripe bananas, mashed
½ cup buttermilk
1 teaspoon vanilla extract
1 tablespoon orange zest (optional)
2 ½ cups all-purpose flour
1 teaspoon baking soda
1 teaspoon salt
1 tablespoon cinnamon (optional)
1 cup chopped nuts (optional)
Directions
Preheat oven to 350°F. Butter and flour the bottoms only of two mini loaf pans, or one large loaf pan.
Beat the cannabutter and sugar with a hand mixer or the paddle attachment of a stand mixer. Add the eggs, one at a time, and beat at a low speed until well blended. Add the mashed bananas, buttermilk, vanilla, and orange zest. Beat at medium-low speed until smooth.
Sift together the flour, baking soda, salt, and cinnamon. Add them to the wet mixture while beating on low speed, and continue beating until just moistened.
If using nuts, fold them in and pour the mixture into pans.
Bake two mini loaves for 50–60 minutes, or one large loaf about 70–75 minutes. When done, a toothpick inserted into the center should come out clean. Let them cool completely (approximately two hours) before slicing. If stored in an airtight container, loaves will keep about five days at room temperature, or 10 to 12 days refrigerated.
Pro tips for a perfect loaf:
I always butter (or grease) my pans and then dust them with a light layer of flour whenever I bake cakes, brownies, or breads. This makes for a much smoother removal.
Position the oven rack so that the tops of the loaf pans are dead-center in the oven to prevent over-browning of the crust
Slather with butter (or more cannabutter) for an even better banana bread experience!
*Note: The amount of cannabutter specified in this recipe is a very loose suggestion; the actual amount you use should be modified based on the strength of your butter and the potency you desire. Dosing homemade edibles can be tricky (click here to learn why), so the best way to test for potency is to start with one portion of a serving, wait one to two hours, then make an informed decision on whether to consume more. Always dose carefully and listen to your body, and never drive under the influence of cannabis.
A note about the Dosing on this recipe
Each of the 10 slices of banana bread in this recipe will have about 30 mg THC per slice IF you made your marijuana butter from average cannabis (10% THC) and used 1/2 ounce of marijuana to make 1 cup butter.
HOW DOES WEED BANANA BREAD TASTE?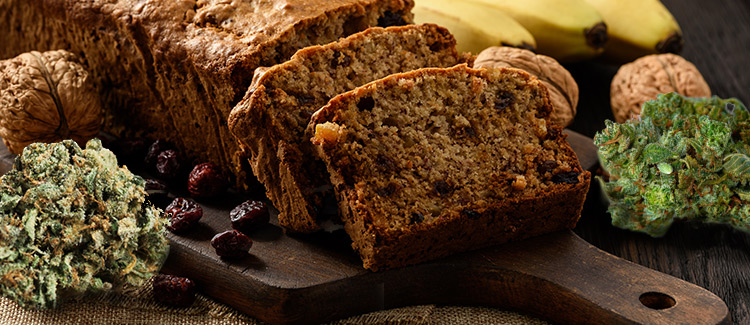 The terpene (cannabis aromas/flavors) are surprisingly subtle in this recipe. If you want it a little stronger, top your still-warm marijuana banana bread with a little smear of cannabutter or cannabis coconut oil.
The cinnamon and banana bread mask a lot of the stronger marijuana flavors, and just a few herby notes come through to dance with the spices.
The flavor of your canna-banana bread does depend on the strains ou use to make your cannabis coconut oil, so keep that in mind when you make your cannaoil.
Freezer Friendly Marijuana Banana Bread
Wrap baked marijuana banana bread, either whole or in individual portions, in plastic wrap and store in the freezer for up to 3 months.  Bring to room temperature or heat in a toaster oven and enjoy.
SPICE UP YOUR CANNA-BANANA BREAD
Here are some ideas of nuts and other variations to spice up this delicious banana nut bread:
Cashews ( what I used in this recipe)
Hazelnuts
Brazil nuts
Macadamia
Coconut flakes
Cacao Nibs
I also like to put half the batter in a 10 x 5 in loaf pan , sprinkle some cinnamon sugar, cover with the rest of the batter and finish it off with the last layer of cinnamon sugar on top. You could also swirl the batter with some of your favorite nut butter – Hello peanut butter!
SLICE OF LIFE
Pre-vegan, banana nut bread was the only thing that I would always get when I was in coffee shops. I loved them for their flavor and the fact that they were always moist, compared to other pastries who would end up dry AF.
But when I went vegan, it was almost impossible to find a good banana nut bread I liked. I also tried multiple vegan recipes, but none passed the banana bread lover test.
After a dozen of recipes tested, I finally gave up on existing recipes and decided to simply make my own by betterfying – yes it's a word in my dictionary – a non-vegan recipe,  and let me tell you, this recipe is a game-changer.